Sports » Latest News
Sports
Posted: Sep 23, 2022 10:54 PMUpdated: Sep 23, 2022 11:54 PM
Pawhuska Could Not Overcome Turnovers Against Vinita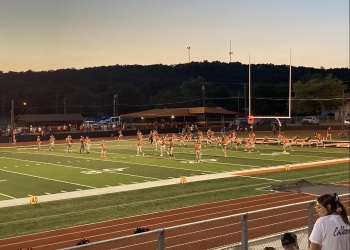 Pawhuska traveled to Vinita for the Huskies second home game of the year. The first quarter was a chess match for the first ten minutes before Huskie quarterback Todd Drummond was blindsided and fumbled while attempting to pass.
The Hornets would go onto to score a touchdown. On the ensuing kickoff, a pooch kick gave the ball back to Vinita. Which would score again quickly.
The Huskies trying to strike back was hit with what was ruled a backward pass returned for a touchdown for Vinita.
The Huskies would strike fast with a 53-yard touchdown pass from Todd Drummond to Tahnahkah Supernaw. It would cut into the deficit 19-8.
Vinita would pull away on the scoreboard. The game seemed like it was close throughout but the Huskies had several turnovers and the Hornets would go onto win 40-16.
Pawhuska is 3-2 on the season (1-1) in district play. The Huskies have a bye week before playing at Nowata on Oct. 7.
« Back to Sports