News
Sports
Posted: Jun 03, 2023 4:41 AMUpdated: Jun 03, 2023 4:45 AM
Indian Baseball Demolishes Texarkana In Season Opener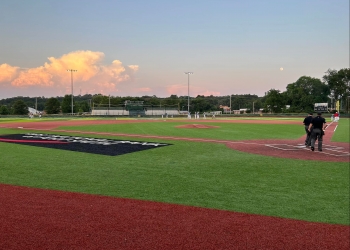 Evan Fahrbach / Chase McNutt
The Doenges Ford Indians started their 2023 season with a bang, as Bartlesville's boys of summer earned a run-rule no-hit victory over Texarkana on Friday night in round one of the Katzer Tournament in Fort Smith, Arkansas.
The Tribe pounded Texarkana 14-1 to win the game in six innings.
Bartlesville pitching, Hayden Catlin and Matt Winters, combined to throw five no-hit innings. Meanwhile the Tribe would slice up Razorback pitching for 12 hits. The Indians would score seven runs to slam the door shut in the top of the sixth inning. A run-rule and time limit would end the ballgame.
Haden Fiddler would lead Bartlesville at the plate. This two-run triple would account for one of his five times on base in the ballgame.
Brenden Asher and Jace Thompson would lead the boy's of summer at the plate, as each had multi-base hit ballgames.
The Indians would jump out to a 4-1 lead after scoring two runs in the first and second inning each. Asher had the big knock in the first – the Tribe's first base hit of the summer – an RBI double to put Bartlesville up 1-0.
Former Nowata Ironmen and current CCC Red Raven Jace Thompson then tacked on a couple more with this base hit in the second.
Indians win their opening game for the third time in the past four seasons. Bartlesville will play two games on Saturday against Conway and Fort Smith at 5:00 and 7:30 respectively on KWON and KWONTV.com.
« Back to News