News
Local News
Posted: Sep 29, 2023 1:35 PMUpdated: Sep 29, 2023 1:47 PM
Sen. Daniels Recognized for Judicial System Service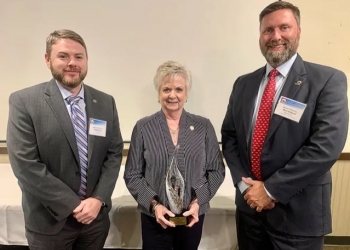 Ty Loftis
Oklahoma State Senator Julie Daniels was recently recognized for her work in helping protecting victims' rights and advocating for public safety.
The Oklahoma District Attorneys Association presented Daniels with the Infinity Award, something that is given to legislators who have a proven career of supporting public safety and the District Attorneys. Washington County District Attorney Will Drake had the following to say on Daniels' dedication to helping those she serves.
"Washington and Nowata counties are well-served by Senator Daniels. She is a strong advocate, both for public safety, government efficiency and the rule of law. Those concerned about the rights of victims have a strong advocate in Senator Daniels."
This is the fourth time Daniels has been recognized by the Oklahoma District Attorneys Association.
(Photo Courtesy of Oklahoma District Attorneys Association.)
« Back to News