Sports » Latest News
Sports
Posted: Nov 03, 2022 6:30 AMUpdated: Nov 03, 2022 7:30 AM
Bartlesville High Football Hosts Tahlequah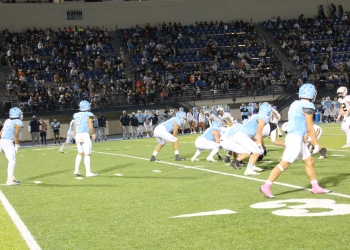 Bartlesville High football will play a vital game for its playoff seeding on Thursday evening, as the Bruins host Tahlequah at Custer Stadium for senior night.
The game was moved up 24-hours due to the possible severe weather on Friday nigh across the state.
BHS has already clinched a playoff spot in 6A-II because of the new expanded 12-team field. However a win against the Tigers would push the Bruins to the 5-seed out of District 1. A loss would mean the Bruins drop to the 6-seed.
Head coach Harry Wright talks about the keys for the Bruins.
Bartlesville's defense has had a knack for getting stops deep in its own territory this season. Games against Claremore, Collinsville, Booker T. Washington, Stillwater and last week against Muskogee saw the Bruins turn their opponents over on downs inside their own 20-yard line.
Bartlesville's first-year Defensive Coordinator Travis Burkhalter talks about why BHS has been successful in that area.
On paper, should be a good game. Both teams are 3-6 on the year with a 2-4 District record.
First matchup between Bartlesville and Tahlequah since 2007. A 6:30 pregame and 7:00 kick on KWON – AM 1400, FM 93.3 and 95.1. Video livestream on KWONTV.com.
(Photo from Gammy's Bartlesville Pics)
« Back to Sports