Sports » Latest News
Sports
Posted: Jun 01, 2023 7:14 AMUpdated: Jun 01, 2023 8:14 AM
Brennan Signs With CCC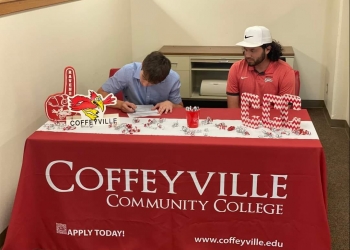 A former Oklahoma Union Cougar has signed to continue his golf career at Coffeyville Community College. Easton Brennan signed to golf just north at CCC on a scholarship for the Red Ravens.
Brennan continues a line of impressive golfers from Nowata County.
The Nowata Ironmen placed at state as a team in 2022 while Spencer Bolen was tied for second individually in Class 2A this past spring.
Photo from Amanda Pierce from Cougar Fan Facebook Page.
« Back to Sports