Sports » Latest News
Sports
Posted: Nov 04, 2022 7:14 AMUpdated: Nov 04, 2022 8:14 AM
Bruin Football Beats Tahlequah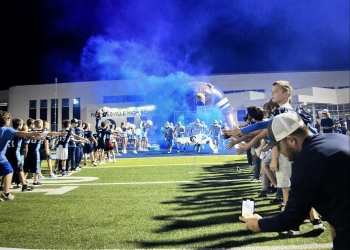 Bartlesville High football won its fourth game of the regular season, as Bruins took an early two-score lead over Tahlequah and never looked back.
BHS beat the Tigers 28-16 at Custer Stadium on Thursday night.
The win for Bartlesville (4-6) assures the Bruins the No. 5 seed out of 6A-II District 1. BHS will travel to Lawton for the first round of the playoffs next weekend.
It was big plays on both sides of the ball that propelled the Bruins to the early lead. Up 7-0 it was the Bartlesville defense who helped BHS to start pulling away.
Mason Manley took an interception back for a touchdown from 85-yards out.
The other big play of the first half came from sophomore running back PJ Wallace. Wallace went 72-yards up the gut and was just barely caught from behind.
The run set up a Nate Neal quarterback keeper for the third score of the first half.
Junior running back Austin Zink also had a great night with scores of two yards and 21-yards. Zink had the only score of the second half for BHS. The game turned ugly in the second half, with nearly 200 yards in penalties and four combined turnovers in the third quarter.
But Bartlesville held on for the 12-point win.
We will have more on the Bruins trip to Lawton for the first round of the playoffs over the next several days.
(Picture from Gammy's Bartlesville Pics)
« Back to Sports