Sports » Latest News
Sports
Posted: Sep 23, 2022 6:30 AMUpdated: Sep 23, 2022 7:31 AM
Bruin Football Hosts Booker T.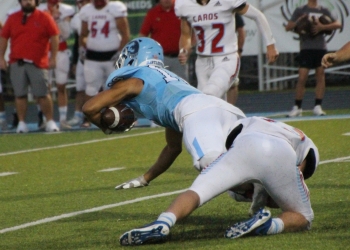 At Bartlesville High the Bruin football team is back at home again against Booker T. Washington on Friday night.
Bartlesville is trying to rebound after a couple tight losses to talented 5A clubs the past two weeks.
A two-running back formation with both PJ Wallace and Austin Zink in the backfield led to improved offensive production. Bartlesville gained nearly 400-yards a week ago.
Zink and Wallace combined for more than 150 yards rushing. Head coach Harry Wright talks about the formation's success.
Booker T. Washington enters the District opener at 1-2. Don't let the record fool you. The Hornets have losses to Bentonville West, Arkansas and Del City. Booker T. Dismantled McClain in its most recent game two weeks ago. The Hornets are coming off a bye-week.
Wright talks about the challenge of facing Booker T.'s athletes.
Micah Tease is the big-time recruit on the Hornet sidelines. The four-star wide receiver has committed to Arkansas after fielding offers from USC, Alabama, OU and others. Lathan Boone is a fourth-year quarterback with the ability to run the football, as well.
A 6:30 pregame and 7:00 kick from Custer Stadium Friday night on KWON – AM 1400, FM 93.3 and 95.1. Video livestream on KWONTV.com.
(Photo's from Gammy's Bartlesville Pics on Facebook)
« Back to Sports