Sports » Latest News
Sports
Posted: Sep 23, 2022 10:04 PMUpdated: Sep 24, 2022 12:11 AM
Bruins Falter in 2nd Half vs. Booker T.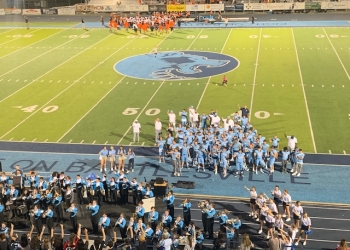 At Bartlesville High, a good start for the Bruins turned sour in the second half, as Booker T. Washington ran away with the District opener at Custer Stadium.
The Hornets beat the Bruins 41-7.
Booker T. scored 34-unaswered in the game's final 23.5 minutes to pull away in the second half. Quarterback for the Hornets, Lathan Boone, scored five touchdowns through the air and one more on the ground. Four of them came in the second half.
The two teams traded blows early. Both scored on their opening drives to make the game 7-7. The game was tied throughout most of the first half.
Sophomore PJ Wallace was the bellcow on the opening drive, accounting for 44 yards, including this 22-yard score with 2:10 left in the first quarter.
Bartlesville's defense stood up in the first half. It was another goal-line stand early in the 2nd quarter that held the Hornets out of the endzone and kept the game tied.
A 78-yard touchdwon from Boone to Arkansas-committ Micah Tease with 1:40 left in the 2nd quarter would give BTW the lead for good. It was 14-7 Hornets at the break.
The game would change in the 2nd half. Booker T. scored on its first two drives to pull ahead by 21. BHS would answer with a 60-yard Damien Niko kick return to set up inside the Hornet 30, only to fumble a couple plays later. Bartlesville lost three fumbles on the evening.
BHS is 1-3, 0-1 in District play. Bartlesville will next host U.S. Grant on Friday night.
« Back to Sports