Sports » Latest News
sports
Posted: Nov 03, 2022 9:55 PMUpdated: Nov 03, 2022 10:58 PM
Huskies Fall in Regular Season Finale Against Rejoice Christian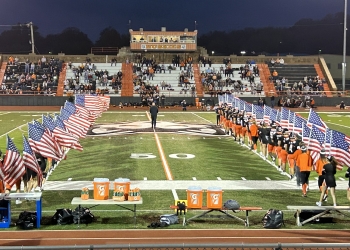 Pawhuska faced a tall task in Rejoice Christian Thursday night and attempted to pull out all the stops against the Eagles. The Huskies would go on to fall 77-30 against the Eagles.
The Huskies would give Rejoice a bunch of fits in the first quarter. Down 7-0 early, the Huskies would show fire power of their own with a Todd Drummond dime to Traven Richardson.
The Huskies would take a 14-7 lead, but the legs of Cale Marley were too much for the Huskie defense.
The Eagles forced a couple of stops and jumped out to a lead Pawhuska could not come back from.
Unlike many schools, the Huskies still have at least one more game left this year. The Huskies are on the road against Victory Christian next week.
« Back to Sports