Sports » Latest News
Sports
Posted: Sep 29, 2023 9:35 PMUpdated: Sep 29, 2023 10:36 PM
Nowata Suffers Second Loss at Hands of Hornets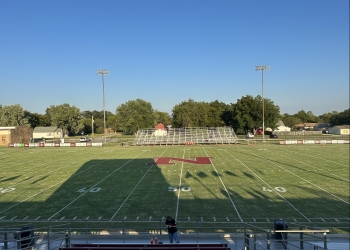 The Nowata Ironmen hit the field Friday night against the Vinita Hornets in what was one of the more important Ironmen games to date as they entered the matchup with a 3-1 record and 1-0 in district play. A goose egg and penalty filled second half would do the Ironmen in as they would fall 35-8.
There were fireworks in the second quarter, and it all started with a Nowata turnover. Jose Wilson was stripped, and the Hornets recovered and returned it to the Ironmen two-yard line to set up first and goal inside the five. The Ironmen defense would hold up and force a 32-yard field goal but, Zach Long for Nowata had other plans.
Just one play after the block field goal, the offense would capitalize as Trevor Emberson would find Peyton Trotter down the right sideline for a 65-yard score.
That would be the only offense for Nowata all night as the second half showed no points in a penalty filled third and fourth quarter. Trevor Emberson would also throw just his second interception on the season. Zach Long and Jerome Jackson were named Co-Patriot Auto players of the game for their performances, Jackson had a couple of TFL's and his first sack while long had a sack along with the blocked FG.
Nowata falls to 3-2 on the season and head to Ormand Beach Stadium for a matchup with the Huskies in Pawhuska next Friday.
« Back to Sports