Sports » Latest News
Sports
Posted: Nov 08, 2022 8:14 AMUpdated: Nov 08, 2022 9:14 AM
WCS Playoff Test Coming Friday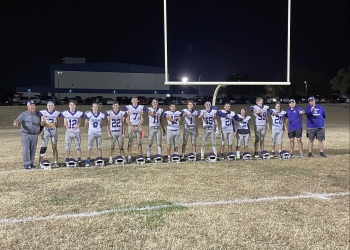 For the third straight year the Wesleyan Christian School football Mustangs are in the Class C postseason and are hosting a first round game.
WCS will have Graham-Dustin into Bartlesville on Friday night at 7:00. The Mustangs are a 1-seed as District-3 champs.
Wesleyan Christian ran through the vast majority of its competition with little trouble the past two months. Its win over Coyle this past Thursday was one of the latest the Mustangs had played in a game in weeks, despite the eventual 55-point run rule victory.
All but one of Wesleyan Christian's past nine wins have ended early due to a lopsided WCS lead.
Head coach Curt Cloud says he would have preferred to play some more full games heading into the playoffs.
Cloud mentioned that his team has tried to ramp up conditioning in an effort to replace some of the lost game-action because due to the blowout wins.
Graham-Dustin could pose more of a challenge than the usual 4-seed. The Chieftains are 7-3 on the year.
More on this game planned for later this week.
(Photo from Katie Seimers)
« Back to Sports